Märklin 2006 New Items: Accessories
Following are the new 2006 Accessories items announced by Märklin.
Prices do not include shipping from ToToTrains to you. Applicable taxes apply.
Prices good through March 15, 2006.
ToToTrains is not liable for typo's, or any change in price or delivery due to the manufacturers decision(s).
Märklin 07420: Controlling Locomotives, Trains, and Accessories – Electrical Manual
General introduction to electricity. Fundamentals of wiring for connections on conventionally powered layouts as well as for layouts controlled digitally with the 6021 controller, etc., and Märklin Systems. Controlling turnouts. Examples of manual, semi-automatic, and fully automatic operations for layouts controlled with analog, digital, or with Märklin Systems. Operation of working models such as the crane, coaling station, turntable, transfer table, etc. Numerous examples of applications and circuits. Funktional test of components. Format 26.4 x 22 cm / 10-3/8" x 8-11/16". Hardbound.
Highlights:
Märklin H0 Electrical Manual.
Completely new edition.
Includes using Märklin Systems.
Currently only available in German. Other language versions will be available later.
Price: call

Märklin 15691: "A Year with Märklin" Annual Chronicle
This DVD shows the high points of the past year in Märklin model railroading. Playing time approximately 60 minutes. DVD international version (English, French, Dutch).
Price: TBA

Märklin 18750: Fire Department Vehicle
Prototype: MAN type 450 "Fire Extinguishing Group Truck LF 16".
Model: This fire department vehicle is made mostly of metal with separately applied plastic parts, separately applied windows, and real rubber tires on detailed rims. Separately applied side markers, load area hand rails, ladders, and other elements. Finely modeled and imprinted radiator grill. Length 79 mm / 3-1/8".
Price: $20.00

Märklin 18751: Fire Department Vehicle
Prototype: MAN type F8 "Dry Powder Fire Extinguishing Truck".
Model: This fire department vehicle is made mostly of metal with separately applied plastic parts, separately applied windows, and real rubber tires on detailed rims. Separately applied side markers and other elements. The pressurized container for extinguishing material and extinguishing material canon are realistically modeled. Finely modeled and imprinted radiator grill. Length 100 mm / 3-7/8".
Price: $20.00

Märklin 18752: Fire Department Vehicle
Prototype: Büssing type 650 "Equipment Truck".
Model: This fire department vehicle is made mostly of metal with separately applied plastic parts, separately applied windows, and real rubber tires on detailed rims. Separately applied side markers. Equipment platform with separately applied ladders, equipment chests, and other elements. Finely modeled and imprinted radiator grill. Hose tender on the rear. Length 110 mm / 4-3/8".
Price: $20.00

Märklin 18753: Fire Department Vehicle
Prototype: Büssing type 650 "Equipment Truck".
Model: This fire department vehicle is made mostly of metal with separately applied plastic parts, separately applied windows, and real rubber tires on detailed rims. Separately applied side markers as well as a roof load with separately applied ladders and other elements. Finely modeled and imprinted radiator grill. Hose tender on the rear. Length 100 mm / 3-7/8".
Price: $20.00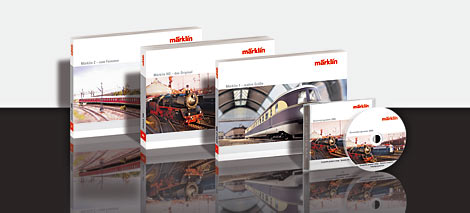 Märklin 19862: English Presentation book H0 scale
Price: TBA
Märklin 19872: English Presentation book Z scale
Price: TBA
Märklin 19878: English Presentation book 1 scale
Price: TBA
Märklin 19882: English/German/French/Dutch CD-ROM Presentation H0, Z, and 1 scale
Price: TBA
Märklin 71421: 10 sockets brown
Märklin 71422: 10 sockets yellow
Märklin 71423: 10 sockets green
Märklin 71424: 10 sockets orange
Märklin 71425: 10 sockets red
Märklin 71426: 10 sockets gray
A package comes with 10 pieces. These sockets can be used with the standard plugs and sockets from the 71400 assortment. These plugs and sockets cannot be used with the earlier versions (package, item no. 7130). The sockets will fit as plugs with some limitations into the sockets on the older versions of control boxes. The control components and decoders in the current Märklin program have been changed to the new standard for plugs and sockets.
Price each 10: $1.75
Märklin 72020: Current-Conducting Close Coupler that Can Be Uncoupled
This coupler is for a close-coupled connection between cars with single-conductor current transmission. It can be used in the close coupler pocket for all modern 26.4 cm / 10-3/8" and 27 cm / 10-5/8" long Märklin H0 cars with a guide mechanism. This means that a single pickup shoe will be enough for a consist of lighted cars. In addition to two current-conducting close couplers, each set also has the hardware for current transmission through the guide mechanism as well as the terminal clips for the interior lighting wire for one car. Each package has 2 current-conducting close couplers and the hardware for the current transmission to convert a car. Installation instructions are included.
The 72020 current-conducting coupler, which can be uncoupled, is an alternative or conversion option for the current-conducting rigid coupler drawbars in the 7319 conversion set.
Price each 2: $6.95